ROLEX CAPRI SAILING WEEK
Rolex Capri Sailing Week sets sail tomorrow with giant maxi yacht fleet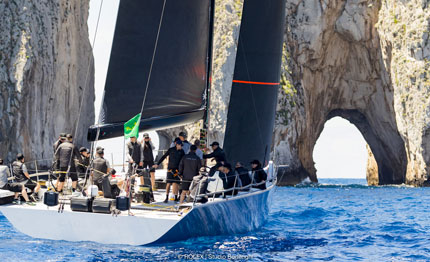 Roberto Imbastaro
A record 22 maxi yachts will take to the water tomorrow for the first day of racing at Rolex Capri Sailing Week. This is the second event in the International Maxi Association's new Mediterranean Maxi Inshore Challenge and follows the Regata dei Tre Golfi which kicked off Rolex Capri Sailing Week last Friday. Winner of the maxi division overall here will receive the Maxi Yacht Capri Trophy and a Rolex timepiece.

Due to its size, the maxi fleet this year has been split into Racer, Racer-Cruiser and Cruiser-Racer divisions according to a simple formula based on length and IRC rating.

Leading the charge in the Racers will be Vesper PI (ex-Morning Glory), a maxZ86 canting keeler that has been chartered to American Jim Swartz for the season. On paper she is the longest, fastest boat here but in the last weekend's ultra-light Regata dei Tre Golfi faced tough competition from Alex Schaerer's modified Maxi 72 Caol Ila R and Sir Peter Ogden's Jethou, now 77ft long having had 5ft added to her stern over the winter.

Caol Ila R's owner Alex Schaerer, who on Sunday won Regata dei Tre Golfi line honours for a second year is a repeat visitor to Capri, having competed in several Volcano Races and Rolex Capri Sailing Weeks. "It is a beautiful place, especially when the sun starts shining," he said. As to the competition this time, he adds: "It will be interesting: We know we're competitive in the coastals, especially in light conditions, but in the windward-leewards we have no idea about how our boat will perform against the canting keel boats." He refers to both Vesper PI and Marton Jozsa's Reichel Pugh 66 Wild Joe. "Theoretically we are more manoeuvrable than them."
At the bottom end of the racing division is Roberto Lacorte's Mills 62 SuperNikka, the serial winner of the Maxi Yacht Rolex Cup, who can anticipate good racing against the British crew on Peter Dubens' Frers 60 Spectre.

At the opposite end of the performance spectrum are the Cruiser-Racers. This includes several Swans such as the 80 Plis Play of Spain's Vicente Garcia Torres, Giorgio Pitter's 65 Force 9 of London, and Riccardo Pavoncelli's 651 Rosbeg. However favourite will be Riccardo de Michele's H20, a repeat Maxi Yacht Rolex Cup winner where last year his Vallicelli 78 was unbeaten across six races.

The Racer-Cruisers comprises more Swans such as the 60 Spirit of Europe and Frenchman Jean-Pierre Barjon's 601, Lorina 1895, plus the array of entries competing in the Mylius Cup. These range from the 80ft Twin Soul B campaigned by company President Luciano Gandini to the 18E35 models Sud and Fra Diavolo of Lorenzo Muratore and Vincenzo Addessi respectively, to the 65s Aldo Parisotto Oscar3 and Walter Caldonazzi's Magic Rocket.

One of the most well-travelled of the Mylii this season will be Fra Diavolo, which is bound for the Caribbean this winter. Addessi says his yacht has undergone some sail development and crew changes since last autumn's Rolex Middle Sea Race. He is a long term Rolex Capri Sailing Week competitor having won his class here three times in three different boats. "I like Capri - I have some very nice memories from here. The race courses are very good and the weather and the atmosphere are nice." He was also responsible for getting Mylius Yachts to host their annual Mylius Cup during Rolex Capri Sailing Week.

One of the lowest rated among the Racer-Cruisers will be the Wally 60 Wallyño. "It is my first time racing in Capri, although I've been cruising here before," says owner Benoît de Froidmont. "I am really looking forward to it. It is an amazing place. We are expecting light breeze which should be good for Wallyño." This will also be the first of four races Wallyño will be racing as part of the IMA's Mediterranean Maxi Inshore Challenge (that after this comprises the inshore races at Rolex Giraglia, Copa del Rey MAPFRE, Maxi Yacht Rolex Cup and Les Voiles de Saint-Tropez.)

De Froidmont is also President of the International Maxi Association and is delighted by the strong maxi line-up at Rolex Capri Sailing Week that this year has increased to 22 from 16 in 2018. "It is a great outcome thanks to the successful co-operation between the IMA, Yacht Club Capri, Circolo del Remo e della Vela Italia and the Yacht Club Italiano. That is where we see the importance of the IMA in helping to increase maxi yacht participation at events such as this."

Competing in Capri this week are many famous sailors from America's Cup stars such as Joey Newton and Francesco de Angelis, to Olympians such as Spectre's double 470 Olympic silver medallist tactician Nick Rogers to Volvo Ocean Race heroes. Among the latter is New Zealand's Stu Bannatyne who has competed in eight editions of the fully crewed round the world race and won four, including the last aboard Dongfeng Race Team. This season he is calling tactics on board Wild Joe.
In terms of what's in store this week, Bannatyne says it is hard to tell: "The weather is changing with almost every forecast. A day or so ago it looked like single digit breeze all week. Now we are hearing about 20-30 knots on Thursday and Saturday. We're just going to take it day-by-day." Well known as a grunty offshore sailor, Bannatyne equally enjoys racing inshore and is looking forward to racing Wild Joe this week especially if conditions get lively as he has been responsible for the Hungarian yacht's Doyle sail wardrobe plus it will be a further chance to experience her new Dynamic Stability Systems foil of which he says: "It has really given the boat a whole new lease of life - 5-6 knots of boat speed increases tight reaching when before it used to struggle."

Organised by the Circolo del Remo e della Vela Italia, Yacht Club Italiano and Yacht Club Capri, in co-operation with the International Maxi Association, racing for the maxis at Rolex Capri Sailing Week runs this week from 15-18th May on a range of windward-leewards and coastal courses, which may include a highly-anticipated lap of Capri.
14/05/2019 22:05:00
© riproduzione riservata