ROLEX CAPRI SAILING WEEK
Two bullet opener for Jethou at Rolex Capri Sailing Week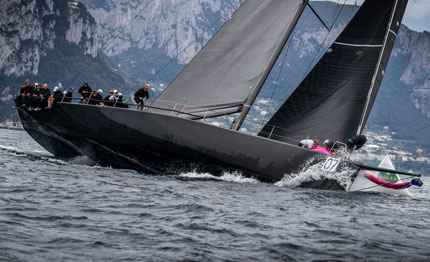 redazione
Three days since the Regata dei Tre Golfi finished, Rolex Capri Sailing Week resumed on the Gulf of Naples today with two inshore races for the Maxi fleet.

Sadly instead of Capri's usual 'beginning of summer' conditions, the sky was overcast and competitors spent the morning scrabbling for thermals to brave the unseasonal cold temperatures. The race area was set up north of Capri's Marina Grande with the weather mark positioned off the end of the Sorrento Peninsula's northern shore. Thanks to the cloud action overhead and the proximity of the peninsula the wind was both shifty and up and down, peaking at 20+ knots at the top mark towards the end of the afternoon. A significant left hand shift approaching the top mark repeatedly saw starboard tackers failing to lay the windward mark.

The racing division belonged to Sir Peter Ogden and his all-black Jethou, now with an elongated stern increasing her LOA from 72 to 77ft. In both races she successfully saw off both Alex Schaerer's Regatta dei Tre Golfi line honours winner Caol Ila R and the larger Vesper, the maxZ86 chartered by American Jim Swartz.

Ashore Ogden was beaming about his 'new' boat: "It definitely finds the groove easier - I don't know why! When we did all this work the whole purpose was to improve our performance by two boat lengths upwind, so we could get to the first mark first. But it would appear we're faster downwind too! It is a nice beginning to our racing here, even though it is awful weather."
Replacing legendary multiple America's Cup-winning tactician Brad Butterworth on board is Paul Campbell-James. "We got good starts, our crew handling has been immaculate all week. Life is a bit easier now we have a bit more pace…" he admitted.

While the all-black flier led on the water at the top mark in race one, they had followed Caol Ila R into it in race two. "They leebow tacked us and we followed them into the top mark," Campbell-James explained. A gybe set had enabled them to overtake on the run.
After two races behind Jethou, Roberto Lacorte's Mills Vismara 62 SuperNikka and Caol Ila R are tied on points in second and third respectively.

In the Racer-Cruiser maxi class, it is much tighter at the top with Aldo Parisotto's Mylius 65 FD Oscar3 leading by one point from Benoît de Froidmont's Wally 60 Wallyño and Jean-Pierre Barjon's Swan 601 Lorina 1895 with the Mylius 18E35 Fra Diavolo of Vincenzo Addessi a further point back.

Paolo Cian is calling tactics on board Oscar3, winner of the first race. "We had a very good day," said the Italian former America's Cup skipper. "The team did a very nice job in the first race: We had a very good start at the race committee because in the first part of the course there was more breeze on the right. Then we crossed the course all the way to the left and with the left shift at the top we gained at the top. The first run was interesting because there were two lines of breeze and we decided to gybe early and go to the left with pressure from the channel [between the peninsula and Capri]."

Winner of the second race in the Maxi Racer-Cruiser class was Wallyño. Benoît de Froidmont, President of the International Maxi Association, was pleased with his day. "In the first race we had a few technical problems with the spinnaker and we missed a gybe, but for the rest the crew did very well. In the second race it was perfect." And this was despite 20 knot winds, when Wallyño typically prefers lighter conditions: "It seems we are also doing well in that too!" continued de Froidmont. "It is our first regatta so we are still putting everything in place, but we are very happy and as usual there is a great team on board."

Based just south of Piacenza in Italy's Emilia Romagna region, Mylius Yachts chooses to hold its Mylius Cup annually at Rolex Capri Sailing Week and after day one Oscar3 is now leading this. President of the company Luciano Gandini is campaigning his Mylius 80 Twin Soul B here: "I am very happy about the good number of Mylius yachts that have gathered here and my warmest thanks goes to their owners that are competing here enthusiastically." Following the International Maxi Association's cocktail party at the incredible Hotel Caesar Augustus last night, tonight it is Mylius Yachts' turn in the social calendar here.
Gandini's Twin Soul B enjoyed good racing especially in the second race with Spaniard Vicente Garcia Torres' Swan 80 Plis Play which today holds second in the Maxi's Cruiser-Race class, albeit tied on points with Rosbeg. This navy Swan 651 sloop, Riccardo Pavoncelli owned up until three years ago and has chartered back for this event. Clearly the team is enjoying being reacquainted with their boat which finished second to Lunz Am Meer in the Regata dei Tre Golfi's maxi division.

"Today it was looking like it could a bit light, but the breeze filled in and it was perfect for us - we were keeping pace with the faster boats upwind and not making too many mistakes downwind," commented tactician Andy Greenwood. "In the last race [which they won] we ripped our no1 off the start so we had to change to the heavy no1 which didn't help." Racing on board is their regular crew including Israeli Commodores' Cup team captain Omer Brand plus the new owner and his son.

Organised by the Circolo del Remo e della Vela Italia, Yacht Club Italiano and Yacht Club Capri, in co-operation with the International Maxi Association, racing for the maxis at Rolex Capri Sailing Week continues tomorrow, when conditions are forecast to be substantially lighter.
16/05/2019 06:30:00
© riproduzione riservata