151 MIGLIA
Strong maxi fleet sets sail in 151 Miglia-Trofeo Cetilar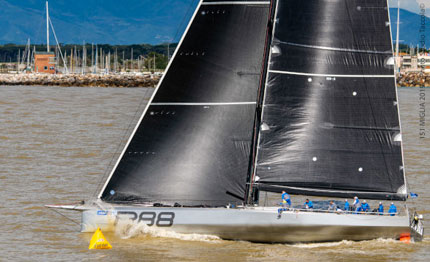 redazione
What is now the Mediterranean's largest offshore race set sail from Livorno, Italy this afternoon. The 151 Miglia-Trofeo Cetilar celebrates its 10th anniversary this year with a giant fleet of 220, up from just under 200 last year, making it the largest participation offshore race in the Mediterranean.

The 151 Miglia-Trofeo Cetilar is organised by Yacht Club Punta Ala, Yacht Club Livorno and Yacht Club Repubblica Marinara di Pisa, in collaboration with Marina di Punta Ala, Marina di Pisa and the International Maxi Association (IMA). It is also the third event of the 2018-19 IMA Mediterranean Maxi Offshore Challenge (MMOC) – following last autumn's Rolex Middle Sea Race and the recent Regata dei Tre Golfi. Thus, among the entry list are 15 maxis, ranging in length from 60 to 88ft, competing under IRC.

This year for the first time the maxis had their own start at 1600 and in the light conditions, leading the charge away from Livorno was George David's Rambler 88, one of the world's most successful maxi boats. "The 151 Miglia seems a great way to start the 2019 season in the Mediterranean and is one of the qualifying races in the IMA MMOC, which we have won before," said David, who won the 2015-2016 edition. "It will also be a look at Giraglia Rock ahead of that race [Rolex Giraglia] two weeks later. The race committee and organisers have been remarkably welcoming and accommodating."
From the start, the 151 Miglia-Trofeo Cetilar fleet headed north to a turning mark off Marina di Pisa before hanging a sharp turn to port for this evening's 55 mile leg southwest to the Giraglia Rock off northeast Corsica. Overnight the maxis will then tackle what could be the most tactically challenging part of the course – between Giraglia and Elba and then negotiating the substantial lee to the south of the island, renowned as Napoleon's place of exile 200 years ago. The fleet then soldiers on to the Formiche di Grosseto rocks (13 miles off Porto Santo Stefano), before turning their north for the final dash into the finish off Punta Ala.

Calling tactics on board Rambler 88 is four time America's Cup winner Brad Butterworth, for whom the 151 Miglia-Trofeo Cetilar is that rare thing – a yacht race he's never done before. "It is gaining popularity," he says of the race. "We have done a bit of optimisation on the boat over the winter so this is a good chance to get the boat going again after that."

Rambler 88 is highly capable of bettering the present race record of 15 hours, 30 minutes and 45 seconds set in last year's 'quick race' by Nicola Paoleschi's Davidson 69, Pendragon VI. But that requires wind, says Butterworth. "We are looking for 15-25 knots ideally, but unfortunately it is looking relatively light. There are a lot of pot holes in the road and you can get stuck in the lee under Elba. But if we can get over 8 or 10 knots, we can put our ears back and get around there pretty quick."

The two boats that match raced to the finish in record time in 2018 return this year in Pendragon VI and the Reichel-Pugh 86 Vera. Racing on Vera is Volvo Ocean Race veteran Bouwe Bekking, also a 151 Miglia first timer. "It looks like the weather is nice - there is no Mistral," he advises. "Boats getting around Giraglia have a chance of doing well. Rambler 88 will be miles ahead for sure. If you round after 0100 then the breeze gets really light while those ahead keep the breeze and sail away."

A trio of Vismara maxis are competing - the 66 Mister A and two 62s, SuperNikka and Yoru. Punching above her weight and fresh from Rolex Capri Sailing Week is Marton Jozsa's Reichel Pugh 66 Wild Joe, newly equipped this winter with a retractable DSS foil able to increase her stability as the breeze builds. Also coming from Capri is the Carroll Marine-built Farr 60 Durlindana 3 of Giancarlo Gianni.

As in Capri there is also a strong turn-out of Mylius yachts. These comprise the 80ft Twin Soul B of Mylius Yachts' President, Luciano Gandini; the 65 FDs, OSCAR 3 of Aldo Parisotto and Magic Rocket - ITAS Assicurazioni of Walter Caldonazzi, plus the two Mylius 60s Federico De Lisi's Aria and Franz Wilhem Baruffaldi Preis' Manticore.

Aldo Parisotto commented: "This is the fifth time I've race the 151 Miglia. I enjoy this race a lot. I am pleased to see that the maxis have their own class this time. That will make it easier to define the overall winner among them."

Then there are Matteo Uliassi's Baltic 65 Mister A (ex Stig) and the Grand Soleil Maxi 65 Ely J of Alessandro Pini.

Backing the 151 Miglia-Trofeo Cetilar once again is Roberto Lacorte's company. Lacorte is pleased especially by the large turn-out this year. "We stopped the entries for organisational reasons - ainly because of security we had to limit entries. We had the potential for 270. Plus the fleet is very good quality – we have created a good situation for the bigger boats to take part. We have a lot of maxi yachts participating thanks to the International Maxi Association."

As to the secret of his race's success, Lacorte reckons it may be the format. "The length is a good balance so that it suits both amateur and professional crews very well. It gives them the chance to race overnight and throughout the day while not being too long."

Then there are the 151 Miglia-Trofeo Cetilar's famous parties. This kicked off with last night's 151 Crew Party hosted by the Yacht Club Repubblica Marinara di Pisa while the event will conclude on Saturday night with a prizegiving followed by another grand party with live music and fireworks in the grounds of the Yacht Club Punta Ala. "That is something people look forward to throughout the year," continues Lacorte, hinting that this year there might be something special in store to celebrate the anniversary edition.

Lacorte was also pleased to have secured the use of the Italian Naval Academy in Livorno, which was used as the venue for today's briefing – moving from the Yacht Club Livorno due to the increased fleet size.
Lacorte himself is competing in this anniversary edition aboard his SuperNikka. "Winning the 10th edition of the 151 Miglia is my dream! We will have to do our best during the race."

IMA Secretary General, Andrew McIrvine, who is again participating, having competed last year on board SuperNikka, commented: "I'm delighted by the strong maxi turnout for this anniversary edition of the 151 Miglia-Trofeo Cetilar and especially by the participation of George David's Rambler team from the USA. We hope that the International Maxi Association's involvement with the event helps to attract not only more 60+ft yachts to participate but also more international entries."
30/05/2019 21:39:00
© riproduzione riservata