GLOBAL OCEAN RACE 2011-2012
Final Prize Giving of the GOR 2011-12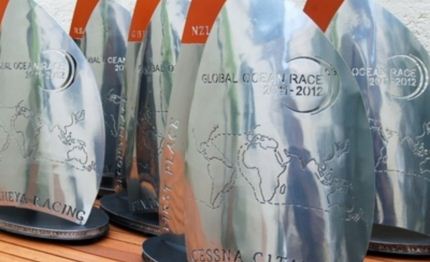 redazione
Separated momentarily from their Class40s, the Global Ocean Race (GOR) teams attended the final, official event of the GOR 2011-12 in Les Sables d'Olonne and joined 150 guests at the event's prize giving held in the town's Salle Audubon on Boulevard Pasteur in the middle of Les Sable's old town on Saturday evening.
For Leg 5 from Charleston to Les Sables d'Olonne, trophies were presented by Yves Roucher, Stéphane Tournade and Nathalie Fougere from the mayor's office and for the overall prizes for the entire 32,000-mile circumnavigation, each team was presented with stainless steel, chromed sculptures by the Charleston artist, Fred Moore, depicting Class40 sails with the distinctive orange flat-top mainsail unique to GOR Category 0 boats (see GOR Leg 5 and overall ranking below).
Josh Hall, Race Director of the GOR, opened proceedings by thanking the town of Les Sables d'Olonne; the Class40 Association; the Capitainerie of Port Olona and Sports Nautiques Sablais: "We've had a very warm welcome here in beautiful Les Sables d'Olonne and we're very proud to finish this edition of the GOR in such a famous sailing town," commented Hall. "I also think the GOR competitors and Race Organisation should thank themselves," he added. "This race is all about people," Hall explained. "It's a race run by sailors for sailors and it's a race that has to thank – on behalf of the organisers and the skippers – all the families, the children, the sponsors and the friends and supporters who came down to the pontoons in the stopovers to help the teams," said the Race Director. "I think we can be really, really proud of the impact that the race and the individual teams have had around the world, so thank you all very much."
Hall went onto read messages of congratulations to Cessna Citation from the Prime Minister of New Zealand, the Rt. Hon. John Key, and from the Commodore of the Royal Cape Yacht Club in Cape Town for Phesheya-Racing (see below for the messages) before handing over to Stéphane Tournade, the local official responsible for all marine events in Les Sables: "We're very proud to host the Global Ocean Race here," said Tournade. "It's very special as Class40 have their Head Quarters here and having a round-the-world race arriving in Les Sables is normal for us as hosts of the Vendée Globe," he added. "We have to discuss the next edition of the GOR, but we're very keen on having the event back here," he confirmed. "Thank you for coming and congratulations and we're waiting for you to come back with the race again," concluded Tournade.
17/06/2012 15:23:00
© riproduzione riservata