VOLVO OCEAN RACE
CAMPER say 'hello' to Alberto and 'goodbye' to Eduardo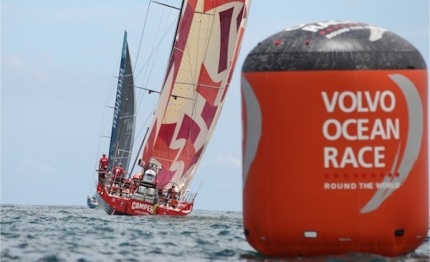 redazione
CAMPER slipped her moorings this morning in Miami to leave for the start of the seventh leg of the Volvo Ocean Race.
This leg leaves the tropical area off the coast of Miami finishing in medium latitudes in Lisbon in Portugal. This is the last long leg of race at some 3600 miles and it is likely to be a fast and long sprint to the finish line at the Portuguese capital.
With just fourteen points between the top four boats and CAMPER in third place, every mile on this race is critical.
The first part of the race today was a short inshore course of some six miles off South Beach in Miami before the fleet crossed the line to start the transatlantic sprint.
"The weather ahead is looking like a slow 24/ 36 hours ahead then there is a tropical cyclone whipping up now, and then potentially a fast ride from there most of the way across, if we can string together a couple of low pressure systems." Comments Chris Nicholson, who is on his sixth transatlantic crossing.
"We should see very light and very fresh conditions, a bit of everything and some nice running conditions. It could be quite a fast trip I think we'll see some fast days, but it's a good set of conditions and good forecast for this team and this boat," he concluded.
One of the features of the forecast for the next couple of days is the first tropical storm of the season. The low, which has been given the name Alberto, is potentially CAMPER's ticket out of town – if it remains near stationary for up to 36-48 hours. It is then forecast to move NE and hopefully, the Spanish/New Zealand entry can hitch a lift and get north east as far as possible.
"It is fairly interesting forecast, a bit unsettled and a bit light first day or so, until we hook onto the back of the low pressure system, which has recently just acquired a name Alberto, so we're looking forward to meeting Alberto and hoping that he is going to help us on our way across the Atlantic," confirmed Stu Bannatyne.
Also onboard CAMPER, as guest 'jumper', was Eduardo Noriega, the Spanish film actor famous for two Alejandro Amenabar films, Tesis and Open Your Eyes as well as a number of others. He has been in Miami as a guest of Camper, the Spanish footwear brand, and has sailed with Nicholson and his crew for the past three days.
"I think it is a privilege to be able to do this with these professional people, Not may people in the world are able to do this. I feel more excited about the racing than jumping. And I keep thinking that if we are leading how I am I going to jump with five boats coming for me!" commented Eduardo just before the start. - ph. ©Ian Roman
20/05/2012 23:43:00
© riproduzione riservata