ROLEX
New York Yacht Club 158th Annual Regatta Presented by Rolex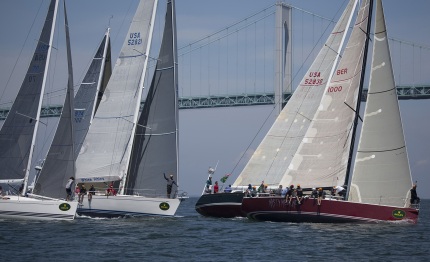 redazione
Sailors on over 100 boats enjoyed classic Newport weather for today's 19-mile Around the (Conanicut) Island Race, a traditional prelude to the New York Yacht Club (NYYC) Annual Regatta presented by Rolex, which will mark its 158th edition this weekend. The oldest regatta in America is enjoying a record number of 146 entries, with 133 of those signed up for weekend racing. (Today's Around the Island Race was separately scored and optional.)
"It was southwest 8-12 knots, building to Beavertail," said Tom Erskine (Marblehead, Mass), main trimmer on Ken Colburn's Swan 42 class winner Apparition, explaining that with that much horsepower to the wind, the race committee had no problems sticking to a scheduled noon start for a clockwise course that started just south of the iconic Newport (Pell) Bridge.
"Then it was 12-15 on the backside of the island and 15-16 on the nose coming home -- just great conditions." It didn't hurt, either, that the sun shone all day after several days of relentless rain."The Race Committee started the smaller boats first," added Erskine, "which made it fun to see all those classics like Black Watch and Dorade sailing near us, and then at the top of the island Rambler (the largest boat in the fleet at 90 feet) came ripping by us at 17 knots!"Though Rambler was first to finish in just under two hours, but it was the IRC 52 Sled's performance that earned owner Takashi Okura (Tokyo, Japan) a class win in IRC 2 and the overall victory in IRC class, which meant he goes home with the coveted Rolex watch as prize for his efforts today.
Sled circumnavigated the island in just over two hours. "I am still jet lagged," said Okura, who arrived only yesterday to join his mostly-Japanese team on a charter boat that bears the name Interlodge. (Austin and Gwen Fragomen also sailed their newly built IRC 52 named Interlodge and finished third in the class behind Jim Swartz's IRC 52 Vesper.) "We tried to sail calmly and quietly and just think about the wind and the tide." Okura added that for ten minutes after the start, Vesper was leading, but the Sled team was able to play the current to its advantage and succeed at a takeover. Okura also won a Rolex watch here in 2006 when he sailed the Farr 40 North Americans as part of the New York Yacht Club Race Week at Newport presented by Rolex and he has every intention of adding an Annual Regatta victory to his resume after he competes this weekend. (Rolex also will award a timepiece to the overall winner of Saturday's and Sunday's combined series of races.)

Fourteen class winners today included Hap Fauth (Minneapolis, Minn./Newport, R.I.) with his newly built Judel-Vrolijk 72' mini maxi Bella Mente in IRC 1 and Annual Regatta defending champions Rives Potts (Westbrook, Conn.) in IRC 6 aboard his custom 48 Carina; Michael McCaffrey (Newport) in the Herreshoff S class with Osprey; Dennis Williams (Hobe Sound, Fla.) in the 12 Metre class with Victory 83; and Joseph Dockery (Newport) in CRF 1 (classics) with his custom S&S 53 Sonny. (Ken Colburn's Swan 42 Apparition is also a defending champion.)Since 1845, the tradition of the Annual Regatta, first hosted at the New York Yacht Club's original clubhouse in Hoboken, N.J., has been interrupted only by war. The event – in even years -- is part of the Onion Patch Series, which also includes the Newport Bermuda Race and the Royal Bermuda Yacht Club Anniversary Regatta. Racing for the NYYC Annual Regatta presented by Rolex takes place on Narragansett Bay and Rhode Island Sound for all classes, with a PHRF Navigator Class -- for those who prefer a classic government buoy course to the more prevalent short-course racing on Saturday and Sunday -- having the option of racing either one or both of the weekend days. Live music, refreshments and daily prizes greet the sailors as they come ashore after racing each day to the rolling lawn at NYYC's Harbour Court clubhouse.
For daily results, releases, photos and video, please visit the New York Yacht Club's website at nyyc.org.
RESULTSAROUND THE ISLAND RACEFriday, June 8, 2012Place, Sail, Yacht Name, Yacht Type, Owner/Skipper, City, State, Country, Finish Date-Time, Elapsed, Corrected, Class Finish/Fleet Finish
Class 1 - IRC 1 (IRC - 4 Boats)

1. USA 45 Bella Mente, Judel-Vrolijk Mini Maxi, Hap Fauth , Minneapolis, MN, USA -- 08Jun12-02:56:37PM / 0:01:56:37 / 0:03:06:07 -- 1 / 3
2. USA 60272 Shockwave, Mini Maxi, George Sakellaris , Framingham, MA, USA -- 08Jun12-02:58:22PM / 0:01:58:22 / 0:03:07:22 -- 2 / 6
3. USA 4511 Team Tiburon (Wizard), R/P 74, Mark E. Watson III , Newport, RI, USA -- 08Jun12-02:59:16PM / 0:01:59:16 / 0:03:08:47 -- 3 / 9

Class 2 - IRC 2 (IRC - 6 Boats)
1. USA 5206 SLED, IRC 52, Takashi Okura , Tokyo, JPN -- 08Jun12-03:07:54PM / 0:02:12:54 / 0:03:03:00 -- 1 / 1
2. USA 52007 Vesper, TP 52, Jim Swartz , Park City, UT, USA -- 08Jun12-03:09:09PM / 0:02:14:09 / 0:03:05:15 -- 2 / 2
3. USA 5210 Interlodge, IRC 52, Austin and Gwen Fragomen , Newport, RI, USA -- 08Jun12-03:10:45PM / 0:02:15:45 / 0:03:08:41 -- 3 / 8

Class 3 - IRC 3 (IRC - 8 Boats)
1. USA 79 Ptarmigan, Ker 43, Lawrence Dickie , Greenwich, CT, USA -- 08Jun12-03:19:12PM / 0:02:29:12 / 0:03:07:14 -- 1 / 5
2. IVB 4915 Defiance, Marten 49, Hamnett Hill , Montreal, Que, CAN -- 08Jun12-03:25:27PM / 0:02:35:27 / 0:03:13:04 -- 2 / 21
3. USA 50069 Temptation - Oakcliff, Custom Ker 50, Arthur Santry - Oakcliff Sailing , Arlington, VA, USA -- 08Jun12-03:24:52PM / 0:02:34:52 / 0:03:15:17 -- 3 / 31

Class 4 - IRC 4 (IRC - 9 Boats)
1. USA 52915 White Witch, King 40, Larry Landry , Newport, RI, USA -- 08Jun12-03:32:39PM / 0:02:47:39 / 0:03:08:36 -- 1 / 7
2. USA 52830 Barra, Morris 486, Bruce MacNeil , Lincoln, Ma., USA -- 08Jun12-03:35:41PM / 0:02:50:41 / 0:03:12:52 -- 2 / 17
3. BER 1000 Nasty Medicine, Corby 41, Stephen Sherwin , Hamilton, BER -- 08Jun12-03:31:00PM / 0:02:46:00 / 0:03:13:53 -- 3 / 25

Class 5 - IRC 5 (IRC - 10 Boats)
1. USA 49 Gold Digger, J 44, James D. Bishop , Jamestown, RI, USA -- 08Jun12-03:31:33PM / 0:02:51:33 / 0:03:07:09 -- 1 / 4
2. USA 43600 Vamp, J 44, Leonard Sitar , Holmdel, NJ, USA -- 08Jun12-03:34:32PM / 0:02:54:32 / 0:03:10:04 -- 2 / 14
3. USA 60003 Pugwash, J 122, David Murphy , westport, CT, USA -- 08Jun12-03:36:51PM / 0:02:56:51 / 0:03:12:35 -- 3 / 16

Class 6 - IRC 6 (IRC - 11 Boats)
1. USA 315 Carina, Custom 48, Rives Potts , Essex, CT, USA -- 08Jun12-03:35:16PM / 0:03:00:16 / 0:03:08:55 -- 1 / 10
2. USA 16 Dorade, S&S Yawl, Matt Brooks , Fremont, CA, USA -- 08Jun12-03:44:10PM / 0:03:09:10 / 0:03:09:09 -- 2 / 12
3. USA 1976 Mischief, Lyman-Morse 40, David Schwartz , Smithfield, RI, USA -- 08Jun12-03:44:19PM / 0:03:09:19 / 0:03:10:04 -- 3 / 13

Class 7 - 12 Metre GP/M (One Design - 5 Boats)
1. K 22 Victory 83, 12 Metre, Dennis Williams , Hobe Sound, FL, USA -- 08Jun12-03:02:22PM / 0:02:32:22 / 0:02:32:22 -- 1 /
2. USA 61 USA, 12 Metre, Guy Heckman , Newport, RI, USA -- 08Jun12-03:08:57PM / 0:02:38:57 / 0:02:38:57 -- 2 /
3. KZ5 Laura, 12 Metre, Kip Curren , Warwick, RI, USA -- 08Jun12-03:10:30PM / 0:02:40:30 / 0:02:40:30 -- 3 /

Class 8 - 12 Metre Traditional (One Design - 3 Boats)
1. USA US 21 American Eagle, 12 Metre, Cynthia Alten-DeLotto , Newport, RI, USA -- 08Jun12-03:15:50PM / 0:02:45:50 / 0:02:45:50 -- 1 /
2. USA 16 Columbia, 12 Metre, Alain Hanover , Weston, MA, USA -- 08Jun12-03:16:10PM / 0:02:46:10 / 0:02:46:10 -- 2 /
3. USA 19 Nefertiti, 12 Metre, Jon Wullschleger , Sarasota, FL, USA -- 08Jun12-03:16:24PM / 0:02:46:24 / 0:02:46:24 -- 3 /
Class 9 - Swan 42 (One Design - 8 Boats)

1. USA 4235 Apparition, Swan 42, Ken Colburn , Dover, MA, USA -- 08Jun12-03:07:25PM / 0:02:42:25 / 0:02:42:25 -- 1 /
2. USA 4227 Hoss, swan 42, Glenn Darden & Paul Williamson , Fort Worth, Texas, USA -- 08Jun12-03:10:46PM / 0:02:45:46 / 0:02:45:46 -- 2 /
3. USA 4214 Daring, Swan 42, John Hele , Newport, RI, USA -- 08Jun12-03:10:57PM / 0:02:45:57 / 0:02:45:57 -- 3 /

Class 10 - CRF 1 Non-Spinnaker (PHRF - 6 Boats)
1. USA 50 Sonny, S&S Custom 53, Joseph Dockery , Newport, RI, USA -- 08Jun12-03:32:59PM / 0:03:12:59 / 0:02:38:07 -- 1 / 1
2. USA NY 6 Spartan, NY 50, Charlie Ryan , Providence, RI, USA -- 08Jun12-03:20:07PM / 0:03:00:07 / 0:02:43:09 -- 2 / 2
3. US 71 Black Watch, S&S Yawl, Sam Earle , USA -- 08Jun12-03:26:38PM / 0:03:06:38 / 0:02:43:36 -- 3 / 3


Class 11 - PHRF 1 spin (PHRF - 9 Boats)

1. USA 34 Blockade Runner, Farr 30, Bruce Bingman / Taran Teague , Annapolis, MD, USA -- 08Jun12-03:19:48PM / 0:03:04:48 / 0:02:48:29 -- 1 / 7
2. USA 51109 Capella, Sabre 452, David Millet , Needham, MA, USA -- 08Jun12-03:24:41PM / 0:03:09:41 / 0:02:53:03 -- 2 / 16
3. USA 56 Spirit, J 92S, EC Helme , Newport, RI, USA -- 08Jun12-03:40:29PM / 0:03:25:29 / 0:02:54:46 -- 3 / 17

Class 12 - PHRF 2 spin (PHRF - 3 Boats)
1. USA 8 Osprey, Herreshoff S Class, Michael McCaffrey , Newport, USA -- 08Jun12-04:02:48PM / 0:03:52:48 / 0:02:47:33 -- 1 / 6
2. USA 22 Argument, Herreshoff S Class, Stephan Sloan , East Greenwich, RI, USA -- 08Jun12-04:04:59PM / 0:03:54:59 / 0:02:49:44 -- 2 / 10
3. USA 5 Surprise, Herreshoff S Class, Fred Roy , Newport, RI, USA -- 08Jun12-04:08:17PM / 0:03:58:17 / 0:02:53:02 -- 3 / 15
Class 13 - CRF 2 Non-Spinnaker (PHRF - 2 Boats)

1. T 82 Silent Maid, Catboat, Peter Kellogg , Short Hills, NJ, USA -- 08Jun12-03:54:12PM / 0:03:44:12 / 0:02:52:42 -- 1 / 13
2. USA US 53 Cherokee, 6 Metre, Molly Savard , Middletown, CT, USA -- 08Jun12-04:07:22PM / 0:03:57:22 / 0:03:08:06 -- 2 / 23
Class 14 - PHRF Non-Spinnaker (PHRF - 9 Boats)
1. USA 1968 Hermie, Columbia 50, Gerald Harris , Rowayton, CT, USA -- 08Jun12-03:36:02PM / 0:03:26:02 / 0:02:46:03 -- 1 / 4
2. USA 414 Coup d' Etat, McCurdy Rhodes 46, Michael Shea , Farmington, CT, USA -- 08Jun12-03:34:26PM / 0:03:24:26 / 0:02:47:19 -- 2 / 5
3. USA 42700 Duck Soup, C&C 40, Bill Clavin , Warwick, RI, USA -- 08Jun12-03:32:51PM / 0:03:22:51 / 0:02:48:37 -- 3 / 8



credit: Billy Black Rolex
09/06/2012 12:10:00
© riproduzione riservata