EXTREME 40
Extreme 40: Danish team announce SAP as sponsor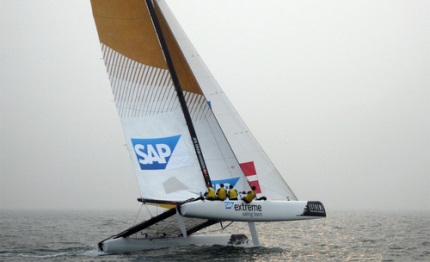 redazione
The Chinese city of Qingdao, the host venue for Act 2 of the 2012 Extreme Sailing Series™ starting tomorrow (Tuesday 17 April), is in final preparation mode – a grand-scale public opening ceremony is planned for tomorrow night with grandstand seating for 2,000 people and a spectacular fireworks display. Nine teams including the local boat China Team and the newly announced SAP Extreme Sailing Team, were out training today before they go head-to-head over the next four days as they battle for the Act 2 win and the 'Double Star Cup'. With some crew changes announced last week, the lines are redrawn for Act 2 as 2012 favourites Groupe Edmond de Rothschild seek revenge over Act 1 champions, Oman Air. Four days of racing are scheduled on Fushan Bay, with one day of open-water racing tomorrow followed by three days of public-facing 'stadium' style close-combat. Race Director Phil Lawrence gave a low-down on the weather outlook for the event. "We have a good forecast for the week. We should have around 12-14 knots of wind tomorrow and maybe slightly less towards the end of the week but generally good sailing conditions."
At a press conference held this morning by host venue partners Qingdao Yachting Association, China Team sailors Kit Cheng and Xiaqun Song were presented to the local Qingdao media. Noelle Smulders, Vice President of China Team spoke positively about the team's involvement in the Series, and the future of Chinese sailing. "The Extreme Sailing Series is one of the most reputable sailing events along with the America's Cup and we feel it can allow us to compete against the best sailors in the world, and it is important for us to be part of that. China Team is a new team and we are ready to expand our competitive fielding across other races, so for us the Extreme Sailing Series and Qingdao was a natural fit. Our desire in the future is to be part of more events in the Extreme Sailing Series."
Also during the press conference, the Danish Team Extreme Challenger officially announced a new title sponsor and revealed a new name for the boat – SAP Extreme Sailing Team, formally Team Trifork. For SAP, the market and technology leader in business management software, the sponsorship further cements their place at the forefront of international sailing and the sponsorship helps SAP to continue on its course in assisting the development of sailing around the world.
SAP Extreme Sailing Team co-skippers Jes Gram-Hansen and Rasmus Kostner were both present and Jes spoke about the unique development of the team. "It is an honour to be here and racing in the Extreme Sailing Series. One year ago Ras (Rasmus) and me together with Ole (Ole Egeblad, team manager) set an ambitious goal to create an Extreme 40 sailing team, and we are very proud that today we can announce a partnership with SAP. We are looking forward to working with SAP and creating a strong Extreme 40 sailing team for the future."
As part of the Series' commitment to engaging the local community in each of the venues it visits, local schools will join the teams every morning this week, to meet the skippers and the crews, and to have a tour of the Extreme 40 catamarans. Up to 360 local children are expected over the course of the week, and this morning, The Wave, Muscat's skipper Leigh McMillan welcomed 40 children to the Qingdao Olympic Museum in the 2008 Beijing Olympic Games village before introducing them to the rest of the crew.
Zhiwei Lin, Chairman of Qingdao Sports Federation spoke of the city of Qingdao's excitement at hosting the Extreme Sailing Series for the second consecutive year. "Qingdao Municipal Government attaches great importance to the 2012 Extreme Sailing Series Qingdao 'Double Star Cup'. The friendly Qingdao residents have been prepared to welcome all sailors from all over the world. We firmly believe that the event in Qingdao will be an exceptional international sailing gathering, which will contribute to building the cultural brand of the Sailing City of China"
16/04/2012 22:26:00
© riproduzione riservata