ROLEX VOLCANO RACE
Rolex Volcano Race: determined teamwork, thrilling out come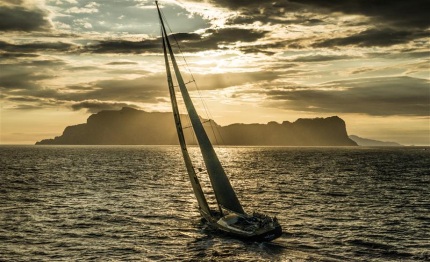 Redazione
The second edition of the Rolex Volcano Race concluded in true Caprese style as fifteen international crews toasted a week's enthralling sailing during the Rolex party and prizegiving at La Canzone del Mare on Friday 25 May. A combination of envious views of Capri's Faraglioni rock formations and a famous venue once owned by Anglo-Italian singer Gracie Fields, and treasured over the years by glitterati and thespians alike, provided a fitting finale to a magnificent week.
During the ceremony, the crew of Sir Peter Ogden's Mini Maxi Jethou (GBR) received the week's most coveted prize – the Rolex Trophy and timepiece – awarded to the overall winner of Leg Two of the 400-nautical mile offshore race which started and finished in Capri and comprised a pulsating journey through the Aeolian Islands in the Tyrrhenian Sea. The fastest boat on the water over Leg Two – Filip Balcaen's 112-foot Supermaxi Nilaya ¬¬– was awarded a Rolex timepiece after claiming line honours in a time of one day, two hours and five minutes.
The two celebrating crews have much in common: both are formed by an enthusiastic owner and a group of friends who have sailed together for a number of years, comprising mainly amateurs in addition to handpicked and highly-skilled professional sailors. Their respective paths to victory are the result of hard work and perseverance.
Jethou Dominates
Ogden's 60-ft Jethou has frequently been the bridesmaid at Rolex yachting events, missing out on the prizes with luck deserting her at key junctures, from crew members falling overboard to split-second defeats. It seems this team of predominantly Corinthian sailors may have finally found the winning formula. Ogden commissioned an upgrade to his Mini Maxi over the winter, drawing on the advice of professional tactician Brad Butterworth. Jethou is now more powerful following a slight lengthening and the development of a new mast and sail plan. While the yacht's enhanced prowess has rendered her faster and more responsive in light airs, the crew's obvious bond and unity is an equally key component in this long overdue success.
The bulk of the Jethou crew is made up of Ogden's friends and family, the professionals onboard playing a key role in helping develop the team's confidence and skills. America's Cup legend Butterworth brings a wealth of experience. "I've sailed with other famous sailors and he is one of the guys," reveals Ogden. "He encourages the crew, shouts at them, but they love him. It is great to have someone who really knows what he is doing. He sees things in 3D that nobody else sees." Ogden also pointed to the contribution of professional navigator Mike Broughton; "he got us round very safely and was excellent on weather predictions."
The sailing was a riveting affair. Jethou reached consistent speeds of 26 knots around the Aeolian Islands, the crew knee deep in water as the Mini Maxi flew past these ancient geological wonders almost like an aeroplane. At one stage, incredibly, she was ahead of two titans in Nilaya and Claus-Peter Offen's 100-ft Wally Y3K (GER). Eventually, on the home stretch and as the wind speed picked up, these two larger yachts gained a narrow advantage over Jethou by virtue of their superior waterline length. However, Ogden's Mini Maxi finished an impressive 41 minutes behind the first boat home, enough to help her triumph on handicap, marking an impressive week which saw the crew claim the windward/leeward race in Gaeta and second place overall in Leg One of the offshore race, which ran 100-nm from Gaeta to Capri. In the combined scoring for the three events of the week, Jethou also came out on top. An emphatic winner.
For Ogden victory crowned a memorable week, which he concluded by celebrating his 65th birthday: "It is not a professional crew. I sail for sixty days a year, and they can't all commit to this, so we have a roster and rotate, although they've all been with me a long time." According to Broughton, who steps down as navigator for the forthcoming Giraglia Rolex Cup: "They are a great bunch to sail with, there's lots of banter and they're very happy as we've now won our last two races." With her recent success, Jethou has thrown down the gauntlet to her Maxi rivals ahead of a competitive summer.
Terrific team spirit
Onboard the largest, heaviest and arguably most complicated yacht - the 112-ft Nilaya - the workings of the 16-man team are down to a tee. Cajoled by Volvo Ocean Race veteran Bouwe Bekking, who calls the shots and acts as the team's commander-in-chief, the crew of predominantly Belgian and Dutch sailors are on an upward learning curve.
Owner Filip Balcaen is proud of the progress his largely amateur crew of friends have made over the past 15 years, having started out with little or no sailing experience. "Everything we have learnt and do today comes from the professional sailors," admits Balcaen. The crew now almost function on autopilot. "A good crew should not talk a lot when something is happening as it is used to working together and in the case of an unexpected event should know what to do. This is the advantage we have of sailing a long time."
Balcaen and Bekking's relationship began back in 2003 during a successful Swan European regatta in Cowes. Ever since, Bekking has been the sounding board and inspiration for the crew, which includes four other professional sailors, all Volvo Ocean Race veterans. "The crew has progressed from a 56-ft yacht to an 80-ft yacht, and now this 112-ft yacht, and we know how to communicate," adds Bekking. "Furthermore, it is a different relationship than that often found on other boats; we call each other up in between races and talk about a lot of things aside from sailing. We have a lot of respect for each other. If people make a mistake, we speak about it calmly and nine out of ten times it doesn't happen again. It is about giving everyone self-confidence."
The crew's approach to sailing Nilaya has been marked by a gradual evolution and a lack of fear at sailing such a large yacht. Bekking concludes: "A lot of people are impressed by size but the good thing about these guys is that they still approach their sailing as if on a small boat - that way they get the most fun out of it." In a thrilling tussle during Leg Two of the offshore race, Nilaya pulled clear of Y3K and Jethou to claim a hard-fought and deserved line honours title. The entire crew stayed awake for the 26-hour journey, tired eyes and warm smiles greeted the sunset finish in Capri. Enjoyment clearly breeds success. And vice versa.
* A dedicated feature story provides further details about how the team onboard Nilaya operates.
Eclectic international fleet
The galaxy of international crews comprised yachts from ten countries. Some entrants are perhaps more surprising than others. The 60-ft Mini Maxi Wild Joe from Hungary, on the face of it, is an unlikely entrant. After all, Hungary is a landlocked country and hardly conducive to developing sailors capable of attacking the great offshore classics. However, that has not deterred the ambition of skipper Márton Józsa who acquired the 2002-built yacht back in 2009. "We don't have seas in Hungary, therefore we don't have sailors with great ocean experience," explains Józsa, "we have to build slowly with what we have. Most of the guys we have on the boat have come from small boats such as dinghies. They are learning to sail a big boat and for this reason we include some professional sailors to bring in more experience. This is the third season with this crew, and we are getting better and better." Unfortunately for Wild Joe, the race ended in disappointment at the Aeolian Islands where an electronics failure forced the crew to withdraw from the race. Wild Joe will hope for better luck in the forthcoming Giraglia Rolex Cup.
Márton Józsa, owner Wild Joe
Crews from Austria, France, Germany, Russia, Spain, the USA and six Italian yachts completed the fleet. The German crew of Y3K owned and skippered by Claus-Peter Offen, President of the International Maxi Association (IMA) may consider themselves unlucky to have missed out on the major prizes, having pushed Jethou and Nilaya close and been the fastest yacht in both the inshore race and Leg One of the offshore race. The best performing Italian crew was Marco Rodolfi's Swan 80 Berenice Bis, the overall winner of Leg One of the offshore race and expertly guided by tactician Tiziano Nava.
This second Rolex Volcano Race will be fondly remembered by all who took part, from the dramatic and absorbing sailing conditions during Leg Two of the offshore race, to the intense and hard-fought three-way chase for line honours, to the stunning sunset that greeted the first arrivals in Capri. The week's most penetrating theme is that of friendship and how two crews with great camaraderie and longevity earned their moment in the sun.
30/05/2012 10:29:00
© riproduzione riservata