PRESS
Rolex TP52 World Championship: precision & performance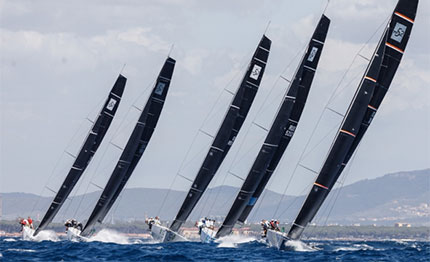 redazione
The winners of first event of the year were five-time world champions Quantum Racing. Already featuring a stellar cast in its crew line-up, the American team has been boosted by the addition of the America's Cup star Dean Barker. Another team to boast serious talent in its ranks is Ondafrom Brazil. The team owner, Eduardo de Souza Ramos, is a double Olympian in his own right and his all-Brazilian crew features five-time Olympic medallist, twice Rolex World Sailor of the Year and Rolex Testimonee, Robert Scheidt as tactician. Hasso and Tina Plattner, co-owners of the South African entry Phoenix, are relative newcomers to the TP52 circuit and, on the surface, exhibit more experience in a different racing arena: the maxi yacht world. The Plattners have accumulated overall wins at the Maxi Yacht Rolex Cup in 1997 and 2007, and, Rolex Middle Sea Race in 2006, together with Line Honours at the Rolex Sydney Hobart in 1996. However, the Phoenix crew includes three-time 52 SUPER SERIES winning skipper Ed Baird, another former Rolex World Sailor of the Year, and, second place overall at the second regatta this season suggests the immediate appearance is deceptive.
The TP52 Class is based upon on a rule that governs certain design, materials and equipment parameters. Within those parameters is room for optimization. The new boat launches this year reflect an accelerating and constant process of evolution and refinement. Every element that affects performance is analysed on an ongoing basis, the quest for perfection unceasing. Hull design, keel design and position, mast construction, sail control systems, the sails themselves; any stone left unturned is a potential rock that will impact boat speed and manoeuvrability.
Alongside determining what changes in equipment are required, teams have looked closely at the human aspect. Training programmes, daily routines, onboard choreography: everything is stripped to its core, reassessed and rebuilt. On the water, the fine-tuning continues. Data feeds from the boats are used in conjunction with drone footage to identify weaknesses and isolate performance-influencing crew errors. The teams know that time spent ironing out the smallest of imperfections will be rewarded in the race results.
For those with an eye on one of the major titles in yachting, no effort is too much. The stage is set for a truly memorable event. Racing at the 2018 Rolex TP52 World Championship begins on Tuesday 17 July. The new world champion will be declared at the prize giving on Saturday 21 July.
05/07/2018 19:59:00
© riproduzione riservata